HOW TO GET THE LATEST DESIGNER LOOK IN YOUR BATHROOMS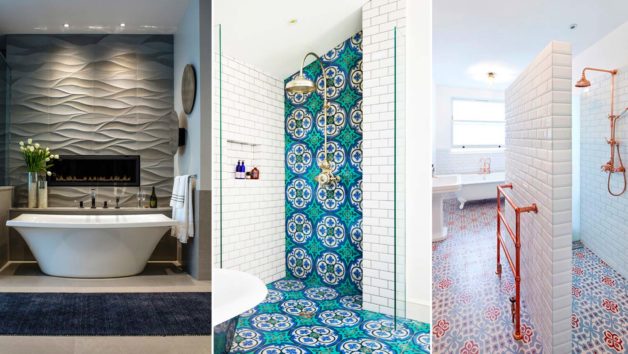 How to get the Latest Designer Look in your Bathrooms
Your bathroom isn't just a place to do your special business. Your bathroom can be a sanctuary. A place where you can relax and unwind. A place where you can be totally yourself. A place where you can get away from the kids.
And that sanctuary should be beautiful.
Luckily, we're here to help you create the perfect space for hiding from the family/boozing in secret/lounging in long bubble baths. We hunted down the best in modern bathroom design trends—and some inexpensive ways you can implement the look in your own home. These interiors are so cool, you may never want to leave.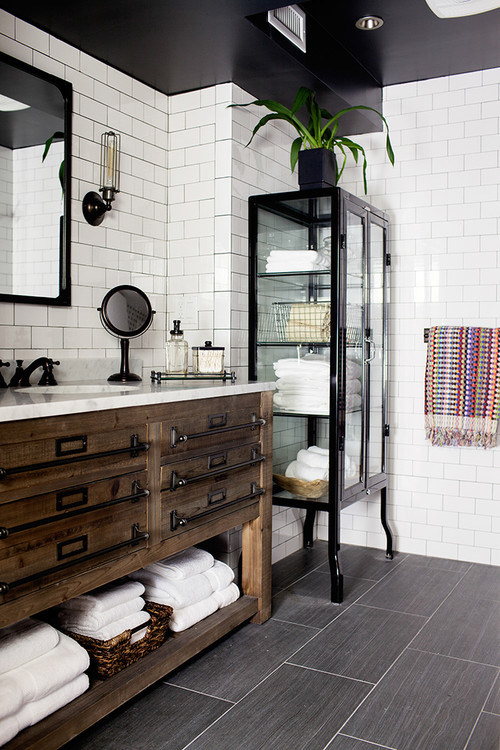 1. Industrial brilliance
You can't go wrong with the black and white paint pairing of this industrial-inspired bathroom. But the real standout in this space is the furniture. Elegant pieces such as this glass and black lacquer display cabinet can take your bathroom from average to inspired.
Get this look: Start with a white backdrop (subway tiles are hot right now and affordable, $2.98 per square foot, Home Depot). From there, add a few black accent pieces; start with your faucets (get a similar look with this Delta Porter in antique bronze, $89, Home Depot). Finish it off with a fabulous furniture find. This piece from Wal-Mart gives you the look of the above cabinet for $343, but even an over-the-toilet towel cabinet will do in a pinch. Can't find anything in black? Paint it yourself with glossy black spray paint.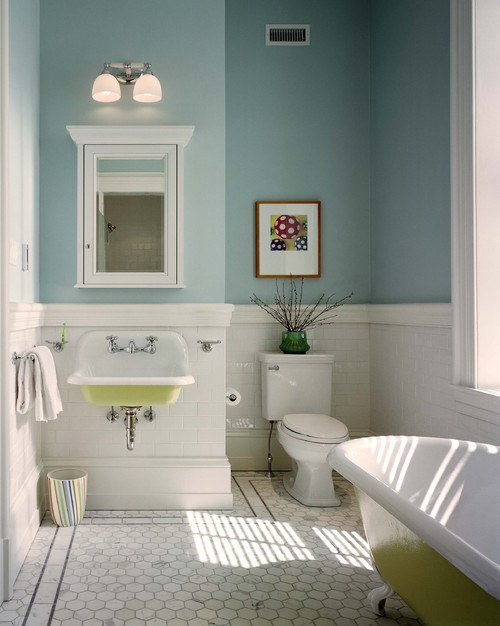 2. Vivid colors
As you probably already know, neutral colors are soooo 2016. When it comes to paint, design tastemakers predict we'll go bold in 2017. So if you're looking for something a little funkier, we suggest this bathroom. Sheathed in robin's egg blue, with lime-green accents underneath the sink and tub, the room gives you a subtle dose of color without overwhelming you with neon.Get this look: You can hire a professional to refinish your tub and sink in any color you want (it'll run you about $300 to $500), or you can DIY. House paint or any water-safe paint will do the trick, but if you're going to DIY, make sure you clean and scrape the surface area thoroughly before you start.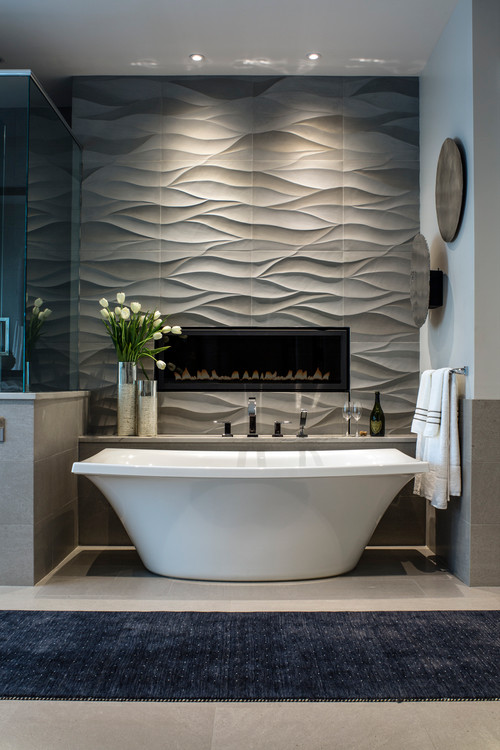 3. Textured walls
Wallpaper is back, and some of the modern designs are simply gorgeous. But this bathroom takes things one step further. The textured tiles look like waves crashing on the wall, giving the space an immersive, visual appeal.
Get this look: That wall looks 3-D because it is—but it's also DIY-friendly and affordable. Lowe's sells a version of these textured panels (6 panels for $105). Or check out inhabit's Seesaw Wall Flats ($60 per 10 flats). Offered in a ton of patterns, the tiles are lightweight and paintable.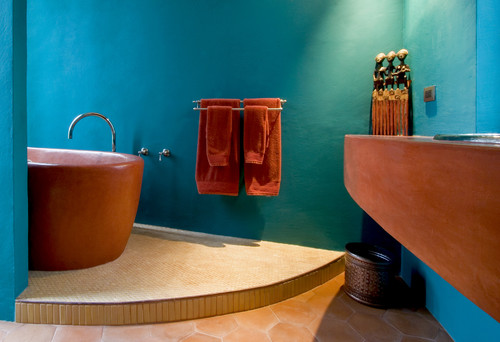 4. Updated Southwestern
Southwestern style is colorful and funky, perfect for people who want something a little unusual. The problem is, a lot of Southwestern decor can feel a little … kitschy. Not so with this bathroom. The terra-cotta bathtub and sink pair perfectly with the modern teal walls.
Get this look: You could pull off the same look with a custom tub, but it'll cost you—likely over $10,000, plus the cost of installation. Don't have that kind of cash to support your dreams of soaking in style? We feel you. For a cheaper alternative, you can install an acrylic round tub for around $2,000 and paint it to look like terra cotta. Or try this Boyce freestanding tub for $1,149 on Houzz, and pair it with a terra-cotta backsplash (like these terra-cotta tiles, $11.60 per nine tiles at Houzz) and bright teal walls.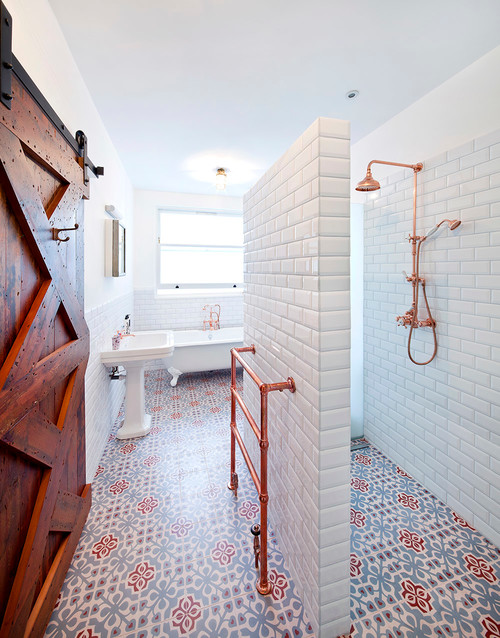 5. Modern bronze
Fitting a walk-in shower, soaking tub, and sink into a small and narrow space can be tricky, but this design found a way around the space constraints with an open-style shower. With its sliding barn door (another space saver), Moroccan tiles, and updated bronze, this bathroom is magnificently modern.
Get this look: Like we said, you can pick up subway tiles at most hardware stores. Copper fixtures aren't such an easy find at Lowe's or Home Depot (we tried), but we love the options at Signature Hardware (such as this vintage faucet set, $399.95). For modern Moroccan floor tiles, try Popham Design or Tierra Y Fuego.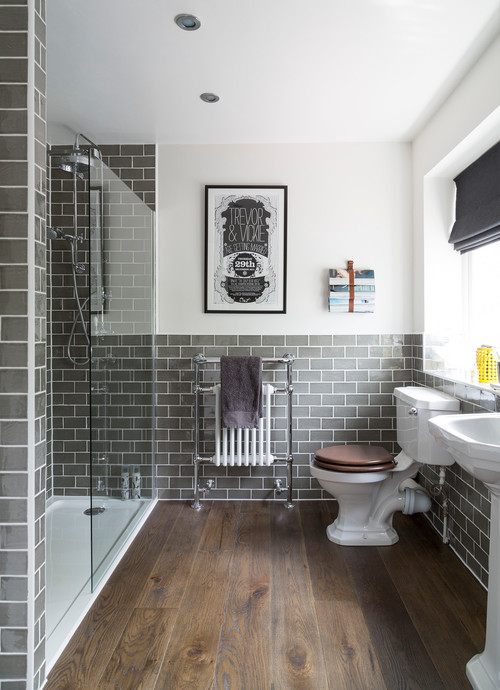 6. Wood floors
Wood floors in the bathroom used to mean impossible upkeep, but not anymore! Now you can buy ceramic waterproof tiles that look exactly like the real thing. In this space, the woodlike tiles finish off a classic feel.
Get this look: When shopping for tiles, look for subway or "big brick" designs to keep the walls from looking too busy. (These Metro Soho Subway Tiles from Merola Tiles, $7.98 a square foot, Home Depot, will do quite nicely.) For the floors, look for wood-grain tiles like these Salvage Musk Matte Porcelain tiles, $395 per 50 pieces, Houzz.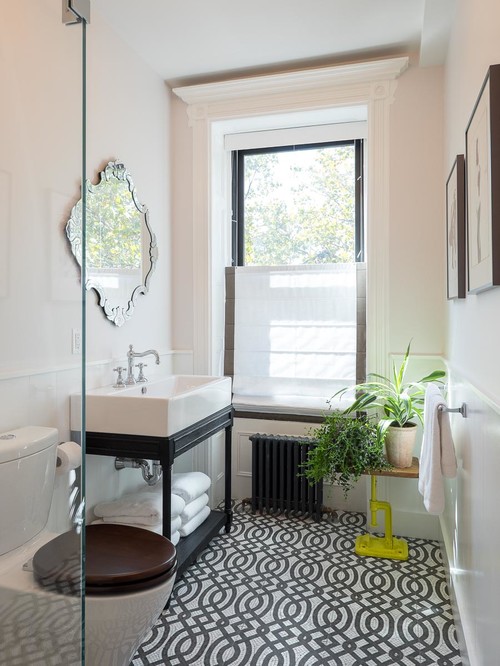 7. Bold patterns
Making a small guest bathroom anything but ordinary is tricky. But this space pulls it off with clean black furniture, decorative floor tiles, and just a hint of color. Add in the big window and the green houseplants and the space feels unique and expensive—and twice the size.
Get this look: The focal point here is the floor—a simple but elegant Moroccan tile design—but the individual elements that come together around it shouldn't be ignored. To implement the look in your home, steer away from a lot of color and opt for flat-black bathroom furniture (like this Lynn Vanity, $751.50, Houzz) and unframed mirrors in unique designs (Bailey Modern Bathroom Mirror, $103.33, Houzz).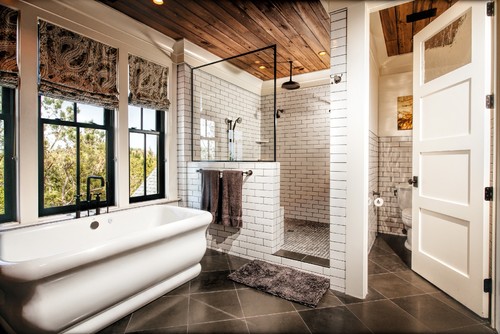 8. Embellished ceilings
If you've been ignoring your bathroom ceiling, you're missing out on a great opportunity to add some visual appeal. This bathroom's exposed wood ceiling absolutely pops against the neutral subway tiles.
Get this look: Here the wood paneling is exposed (#shiplap, as Chip Gaines would say) and then treated to prevent damage from water and steam. Don't have wood planks you can expose? Try lightweight tiles or even wallpaper (yes, really). East Coast Rustic's reclaimed wood wallpaper ($239 per 20 square feet, Houzz) will give you the same feel without any risk of wood warping.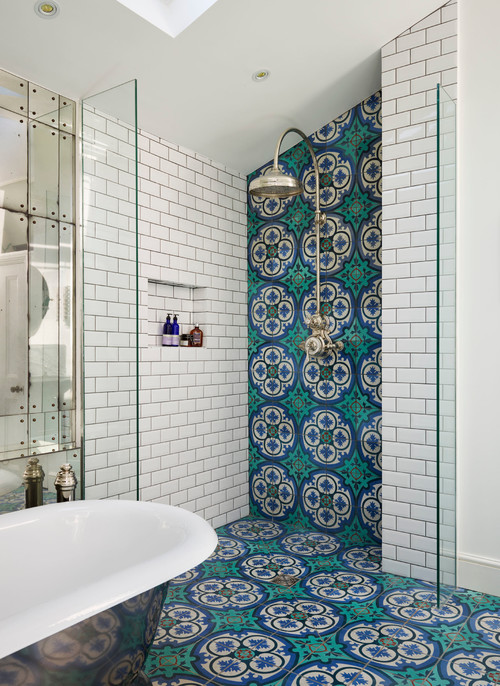 9. Exotic themes
If you haven't already noticed, there's a recurring theme in many of the designs we've selected: Moroccan tiles. Moroccan decor is having a moment, and we couldn't be more thrilled. When done correctly, the colorful ceramics can spruce up any space, adding an exotic flair that will make you feel like you're permanently on vacation. In this bathroom, big, bold, and beautiful tiles create a focal point behind that shower that spills out to the floor.
Get this look: To pull it off, look for an oversize shower head (we like the Roux Rainfall, $129.95, Signature Hardware) and finish off the room with Moroccan tiles in a big, bold pattern. Try this Malaga Corner Moroccan ceramic tile for only $26 per tile from Houzz.
Article Source: Realtor.com.
Leave a Comment